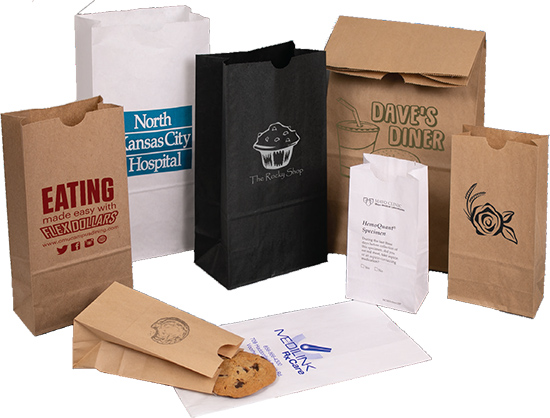 Kraft Merchandise & SOS Bags
Merchandise bags are flat with no handles.
SOS bags have side gussets but also no handles.
For bags with handles see our selections under Shopping Bags.
SOS is short for "Stand on Shelf" bags.
IMPRINT ME!
These bags may be ink printed or hot stamped.
Kraft Merchandise Bag 5" x 7 1/2" 1000/cs

$26.45

Kraft Merchandise Bag 6 1/4" x 9 1/4" 1000/cs

$30.48

Kraft Merchandise Bag 7 1/2" x 10 1/2" 1000/cs

$35.14

Kraft Merchandise Bag 8 1/2" x 11" 1000/cs

$44.68

Kraft Merchandise Bag 12" x 15" 1000/cs

$73.11

Kraft Merchandise Bag 12" x 2 3/4" x 18" 500/cs

$54.21

Kraft Merchandise Bag 14" x 3" x 21" 500/cs

$71.63

Kraft Merchandise Bag 16" x 3 3/4" x 24" 500/cs

$94.82

Kraft SOS Bag - 2#(4 1/4" x 2 3/8" x 8 3/16") 500/cs

$20.17

Kraft SOS Bag - 4# (5" x 3 1/8" x 9 5/8") 500/cs

$21.06

Kraft SOS Bag - 6# (6" x 3 5/8" x 11 1/16") 500/cs

$27.62

Kraft SOS Bag - 8# (6" x 3 5/8" x 12 1/2") 500/cs

$32.46

Kraft SOS Bag - 12# (7 1/8" x 4 3/8" x 13 15/16") 500/cs

$35.16

Kraft SOS Bag - 20# (8 1/4" x 5 1/4" 16 1/8") 500/cs

$50.78