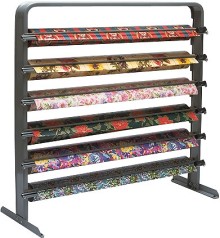 Cutter Box Dispenser
This handsome countertop gift wrap dispenser is designed especially for our 100' rolls
Roll station is equipped with even cutting spring loaded blade.
Can be permanently mounted to a counter or, unmounted, can be moved to other locations as desired.
Light weight and stable design aids mobility
Rubber feet protect countertops
Finished in baked gray powder coat
Ships via UPS

Assembled Dimensions:
W + 3 1/2"
H 25"
D 10"

Please note that this item ships direct from the manufacturer
and lead times can be longer, especially around the holidays.